It's the fabric your customers have been waiting for. COTTON USA™ has partnered with Proneem to create clothes that eliminate unpleasant body odors and absorb moisture, for comfort all day long.
FINALLY. LONG-LASTING FRESHNESS, EVEN WHEN YOU SWEAT.
Proneem's revolutionary DRY PROTECT™ technology repels the unpleasant side effects of perspiration, giving consumers more comfort and confidence. Cotton-rich clothes made with this new technology leave them fresh feeling all day long by eliminating unpleasant odors and absorbing moisture.
NATURAL MINERALS. NATURAL COMFORT.
Talc and Alumstone are 100% natural minerals that are added to Proneem's DRY PROTECT formula to provide natural comfort. Alumstone helps to stop the growth of odor causing bacteria and fights against perspiration, while Talc absorbs the body's moisture. When combined with cotton-based fibers, DRY PROTECT™ works actively upon contact with skin, ensuring hygiene and comfort, the natural way.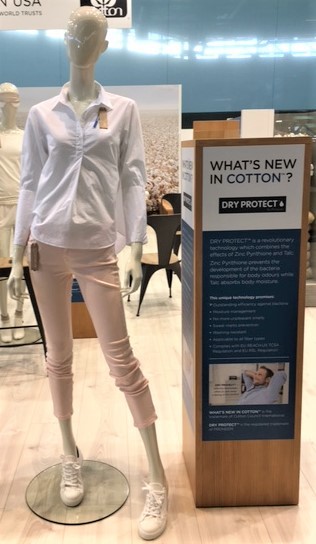 ---
Disclaimer:
Please note that Cotton Council International (CCI) has no commercial agreement with the companies in this document. Also, CCI does not endorse nor are we able to verify the veracity of the claims or any of the technologies that the companies use. CCI is only working with these companies to showcase potentially interesting technologies that could be used with U.S. cotton for ideas and inspiration only. Any agreement to proceed with one of these companies is solely at your discretion and will not involve anyone from CCI. Thank you.