Last month, Cotton Council International (CCI) launched the inaugural COTTON USA SOLUTIONS® Executive Mill Mastery® Course in Dubai, gathering 24 aspiring executives from mills across Bangladesh, India and Pakistan. COTTON USA built this new training program to inform and equip future spinning mill executives on how to use U.S. cotton to maximize their mills' profitability during five days of intensive programming provided by CCI's technical team which has over 250 years of experience in spinning operations and have visited over 300 spinning mills in over 15 countries.
In-Depth Expertise
The COTTON USA SOLUTIONS Technical Team prepared an in-depth curriculum which consisted of 12 educational modules on a range of topics focused on understanding and improving usage of U.S. cotton in mills. The team of experts shared best practices, insights, tools and techniques on topics that have the greatest impact to mill executives today.
Actionable Insights
In addition to the ability to learn from the SOLUTIONS team experts, attendees had the opportunity to further their understanding through an interactive workshop in which the mill executives worked together to design the most profitable mill. At the forefront of technical mill management, the SOLUTIONS team transparently shared insights regarding technical improvements and trends the mill managers might soon face, allowing them to think through their application in real time.
Throughout the workshop, COTTON USA taught mill owners to recognize the total cost of production, including the savings that come from using U.S. cotton— …which results in higher productivity, higher yields, better running conditions in all processes, better quality level, therefore less claims from downstream customers, and with all of that ultimately making the mill more money".
"We could see knowledge turning into action," COTTON USA Technical Team Consultant Dr. Muhammad Tausif noted. "We witnessed the senior executives relaying insights back to operational teams in order to implement the changes and make the most out of the excellent quality of U.S. cotton."
The course also included a profitability module, which gave participants practical examples of how using U.S. cotton in their spinning operations can increase their overall profitability, despite the higher cost of raw material inputs.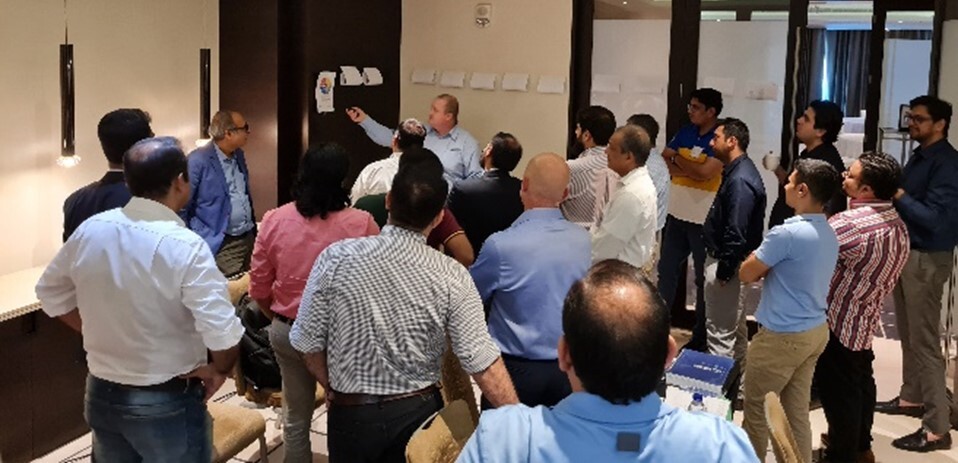 Networking
The event ended with an opportunity for participants to network, share common challenges and exchange ideas with their peers in other countries about all aspects of spinning U.S. cotton.
COTTON USA Technical Coordinator Consultant Jürgen Plessing noted, "This event not only provides a wonderful foundation to learn about U.S. cotton, but as well to connect to executives from other countries who obviously had been considered "peers." The exchange between the participants from different countries and markets was one of the most valuable aspects of the event. Attendees said they found the differences between the countries very interesting, like cotton buying specialties or work practices."

"The Executive Mill Mastery Course is a great initiative by COTTON USA, as it brings together the leading cotton spinning mills and provides a unique opportunity to the participants to share their experiences of using U.S. cotton with each other," Rubayet Haider, director of Outpace Spinning Mills Ltd. of Bangladesh added.
Driving Success
Overall, the exclusive event provided in-depth expertise, actionable insights and valuable networking opportunities for mill owners in a variety of countries – ultimately driving them to understand the true value of U.S. cotton and adapt their businesses accordingly.
After attending, 90 percent of the participants agree that using U.S. cotton in their mill operations can result in higher-quality end products, and 81 percent agree that using U.S. cotton in their mill operations can save their company money.
"The COTTON USA SOLUTIONS® Executive MILL MASTERY® Course was great!" Umar Najeeb, director of Riaz Textile Mills Pvt Ltd. in Pakistan, said. "I learned how U.S. cotton can improve my mill efficiency, and I can increase the productivity of my textile mill by using U.S. cotton."
COTTON USA SOLUTIONS is a complimentary cotton consultancy provided to senior executives of mills who are either U.S. Cotton Trust Protocol® members or COTTON USA™ licensees to take their businesses to the next level of success.
Interested in learning how your mill can benefit from the expertise of the COTTON USA SOLUTIONS® team? Learn more about our offerings at https://www.cottonusa.org/solutions/mill-mastery.